The guide contains detailed information about three BENNA 401K℠ models that will enable small employers to set up a plan that has the attributes of a traditional 401k without the cost or complexity of such plans.
Each BENNA 401K℠ model has somewhat different benefits which are explained in the guide including the reasons why a specific model may be the best option for your small business. The guide was written by Ted Benna, commonly referred to as the "father of 401k". It also includes detailed instructions and forms for your usage to set up a plan for your business.
We have two versions of our 401k Setup Guide—one based on Vanguard and the other on Charles Schwab. Vanguard is well known for their low fees which has made them one of the most popular mutual fund companies; however, Vanguard isn't a good fit for Model 1 due to their $1,000 minimum initial deposit requirement. There is a way to utilize them for Model 1 despite this requirement but it is a bit inconvenient. You will also be restricted to only Vanguard mutual funds with Models 2 and 3. Schwab's mutual funds are less well known; however, their index funds have lower fees then Vanguards. In addition, thousands of mutual funds, ETFs, stocks and bonds are available with all three Models.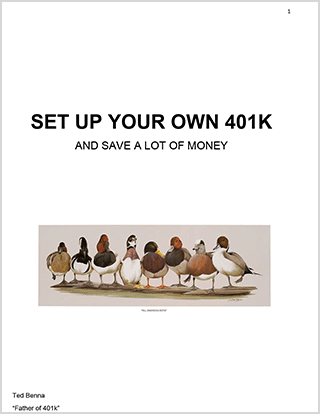 How to Set Up Your Own 401k guide (Vanguard)
(PDF Digital Download)
$18.99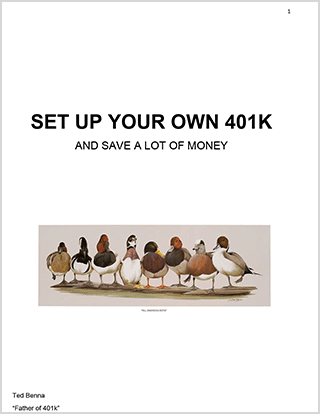 How to Set Up Your Own 401k guide (Charles Schwab)
(PDF Digital Download)
$18.99
Setting up your own BENNA 401K℠ isn't hard; however, consulting support is available if you need it.